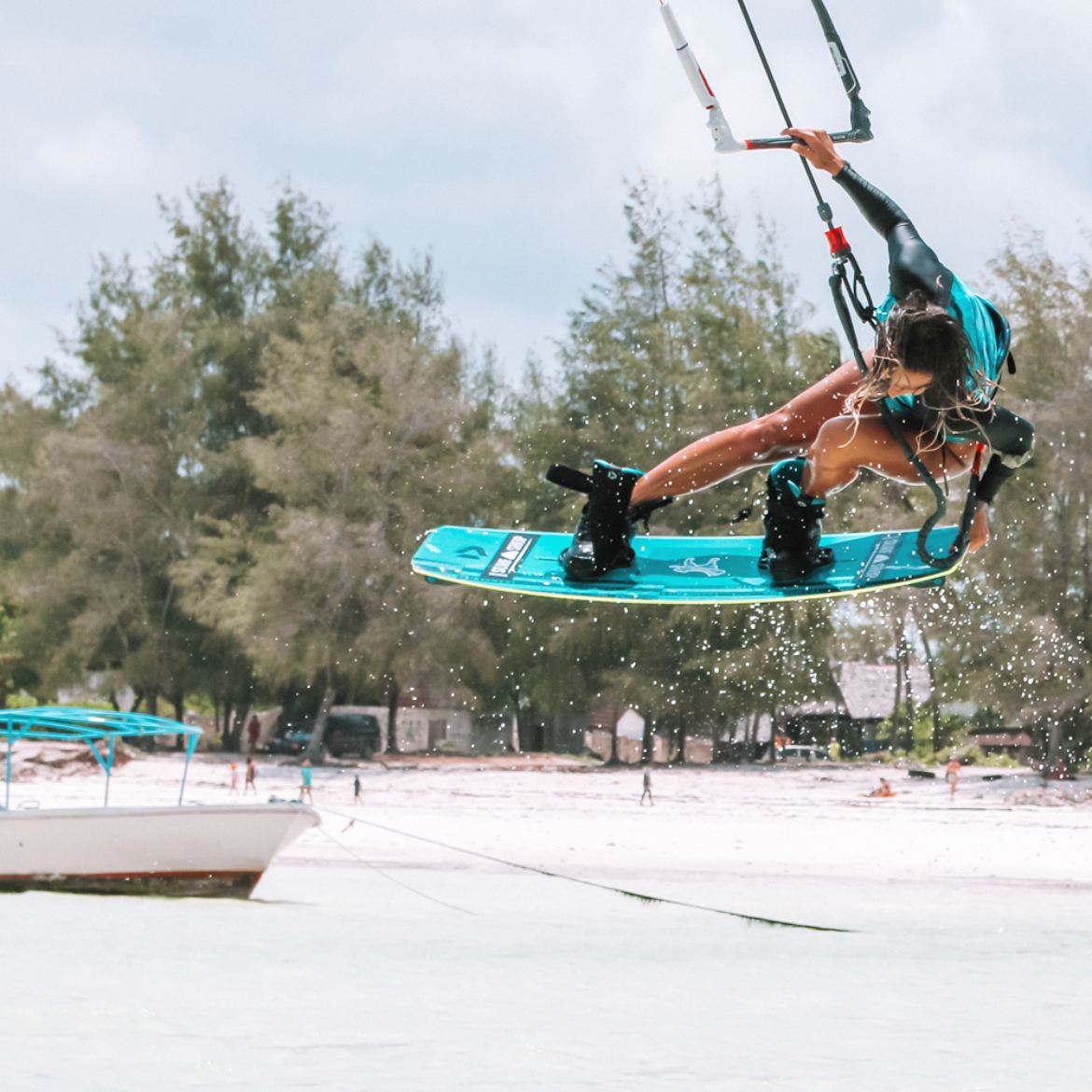 Refresh or Supervision
Kitesurf Courses in Zanzibar Paje Beach for Advanced levels and supervision. Continue to improve your skills in the kitesurf world! like: freestyle, down-wind wavestyle, strapless and much more
If you already know how to ride but want supervision to feel comfortable and safe while practicing kitesurf, or you need to correct some movements to start edging riding upwind, you can choose one of our advanced courses. We offer specific courses to learn for example to ride upwind and change direction without sitting all the time on the water.
Once you can ride to both directions with good control it's possible to progress and improve skills by choosing one of our advanced courses where you can learn how to jump and all the coolest techniques of the moment.
You can choose the style that most appeals to you: freestyle, wakestyle and/or waveriding.
If you're already riding but need an instructor who will supervise you during your training, you can take 3 or 4 hours of supervision. Supervision isn't a course but support that we give you with preparation of the equipment on the beach, launching and landing the kite and help with recognizing a safe practice zone. When you are in the water, we supervise you while you make your excercises. If some inconvenience appears with preparation or riding, for example a board goes missing, or you need some advice with a movement or jump we are there to help you.
Freestyle and Foiling
Learn your first jump in kitesurf
When we talk about kitesurfing, we all have in mind those incredible tricks that pro kitesurfers do. It's quite normal, the desire to learn how to jump in kitesurf is a step for many of us. The development of jumping technique, pop and centre of gravity management during the jump requires a step-by-step training to do it efficiently and safely.
You want to improve your technique, style and knowledge. In this kitesurfing course module we will learn how to jump in kitesurfing and how to intervene to help when others are in difficulty.
Become an advanced kitesurfer!  Freestyle:Basic Jumps, back loops, front loops, aerial transitions, Kiteloops, downloops, board off, one footers and much more…
LESSONS AVAILABLE IN THESE LANGUAGES ENGLISH , FRENCH, POLISH, SWAHILI
Supervision / Refresh 1hr
Private Advance lesson. 1 student to instructor ratio.* Price per hour. +5% for online payment.
Freestyle / Floiling 1hr
Private Advance Lesson. 1 student to instructor ratio. * Price per hour. +5% for online payment.
Reason to choose us:
Our goal is to offer you kitesurfing lessons with the best progression curve, thanks to a fast, safety-oriented teaching method adapted to everyone.
Choose your kitesurf courses in Paje according to your current level and join the PKZ Family.