Beginners, welcome to the wonderful world of kitesurf! Our introductory course combines all you need to know about wind theory, safety and setup on land and then gets you straight into the water. We finish up by getting you onto the board for your first rides. This is the best way to get a taste of what kitesurfing is about but remember, our love for kitesurfing is highly contagious – you might just become as addicted as us!
Perhaps you made up your mind about wanting to know every detail about kiteboarding and to master all the tricks like a pro so you immediately booked your first kiteboarding course. Luckily there are countless kiteboarding schools and fellow wind addicts out there that have previously paved the way for you so that you can reach your kiteboarding goals and avoid all the pitfalls of learning. Here is a small list to ponder:
Wrong set up of kite gears
Never connect your front lines without checking first that your bridles are free from any tangles. Always double check your lines prior to launching.
Not placing your board at the right angle
Make sure your board is perpendicular to the wind. The board works like a steering wheel so make sure to put your feet in quickly and apply equal pressure on both feet once you hitch the winds with your kite.
Not knowing what to do with the bar
Stop pulling on the bar when launching. Make sure to lean forward and bend your shoulder toward your bar so you can have the bar pushed out before launching safely. Note: If you're generating enough power with the kite you will feel no desire or need to pull the bar in and you will feel the lift through the harness. Soon enough you'll learn to naturally gauge the power of the winds you're harnessing.
Landing the kite and creating chaos
When it comes to landing your kite, don't pull the bar so hard after the kite has landed, it can still hitch the winds and become severely entangled or pull you and/or anything in the way; also, it will be very uncomfortable for you and for whoever is helping you grab your kite. As soon as the kite lands and / or the helper catches the kite, let go of your bar and release the tension in the lines by walking quickly toward your kite.
Using the kite as a parachute
This one is self-explanatory. When you reach five to ten feet above the waters (or even more) you should always re-direct the kite forward. This will do two things:
1. It will pull you forward
2. It will set your kite at a 450 angle so that you can land downwind and use that speed to keep your board on a plane level. If you leave the kite overpass you and reach noon                (+/- 900) you'll begin to sink and will take a direct fall.
Kiteboarding too close to onshore winds
You should never do a water start without clearing some distance between you and the shore; your fins will get stuck in the sand, and you will face plant if you attempt to surf in waters that are too shallow. Take the time to walk away or do some body dragging outward, away from the shallower waters until you are at a good enough distance.
Not follow the safety rules
Safety rules regarding your gear are there for a well thought reason, no matter how experienced you've become, always follow the rules. Also, before your kiteboarding session, always ask the local kite center or local kiteboarders about the safety rules of the place, there might be some no kiteboarding zone or other dangers.
Kiteboarding is a cool sport, don't improvise anything
Embarrassing Kiteboarding mistake… screaming or making weird faces or gestures when you are about to launch your kite; your instructor got your back! You should raise your thumb as an international sign to launch the kite.
Not learning from a IKO certified kite center
The worst Kiteboarding mistake you can make is to learn it by yourself. Always look for an IKO certified kiteboard center to learn the right way from the beginning; you can find great certified kiteboard schools here in Florida.
Not taking in all the good advice from experienced IKO certified kiteboarders
We know it could be a little hard in the beginning, but we also know that you will master it fairly easily if you love the sport. Establishing good habits from day one will help you master this fun sport in no time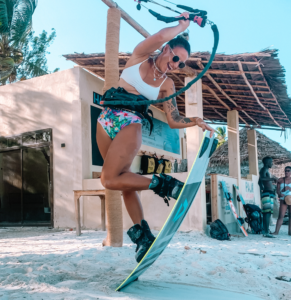 Paje Kite Surf Spots
Paje is known as one of the best kite spots in the world. The flat water and stable wind create the perfect conditions for teaching, but the lagoon also has a lot to offer for more advanced riders. The shallow flat water is perfect to spice up your freestyle skills. The lagoon is protected by a reef with high tide this creates the perfect playground for wave riding. The waves at the reef get up to two meters.
Your Best Summer
Zanzibar has two windy seasons. Both of them deliver constant side onshore wind. The Kaskazi blows daily from 1/2 December until 1/2 March from northeast. In this season we have 14 to 20 knots. From 1/2 June until 1/2 October we have the Kusi. During the Kusi we have more powerful winds up to 25 knots.
Wind is your friend. Don't be scared of it. A little bit of extra adrenaline here and there is good for the soul, and your kitesurfing 
Arusha Safari vs Beach
You don't need to choose, experience the best of both worlds!
If you're looking for a holiday full of adrenaline, this is the right place. Experience two adventures in one package! We offer a range of incredible safari tours to suit every schedule and budget across Lake Manyara, Tarangire, Ngorongoro CA, Serengeti National Parks and more. We'll then switch to Zanzibar Island to make you experience the maximum of freedom with our kitesurfing options and trips!
Safari tours range from one to six days, maximum six persons per car.
Looking for something else?
We can create a personalized holiday for you.
Related Posts
The main difference between kitesurfing and windsurfing is that kitesurfing is an extreme water sport where the surfer is attached to both the surfing board and the kite, whereas windsurfing is an extreme water sport where the...